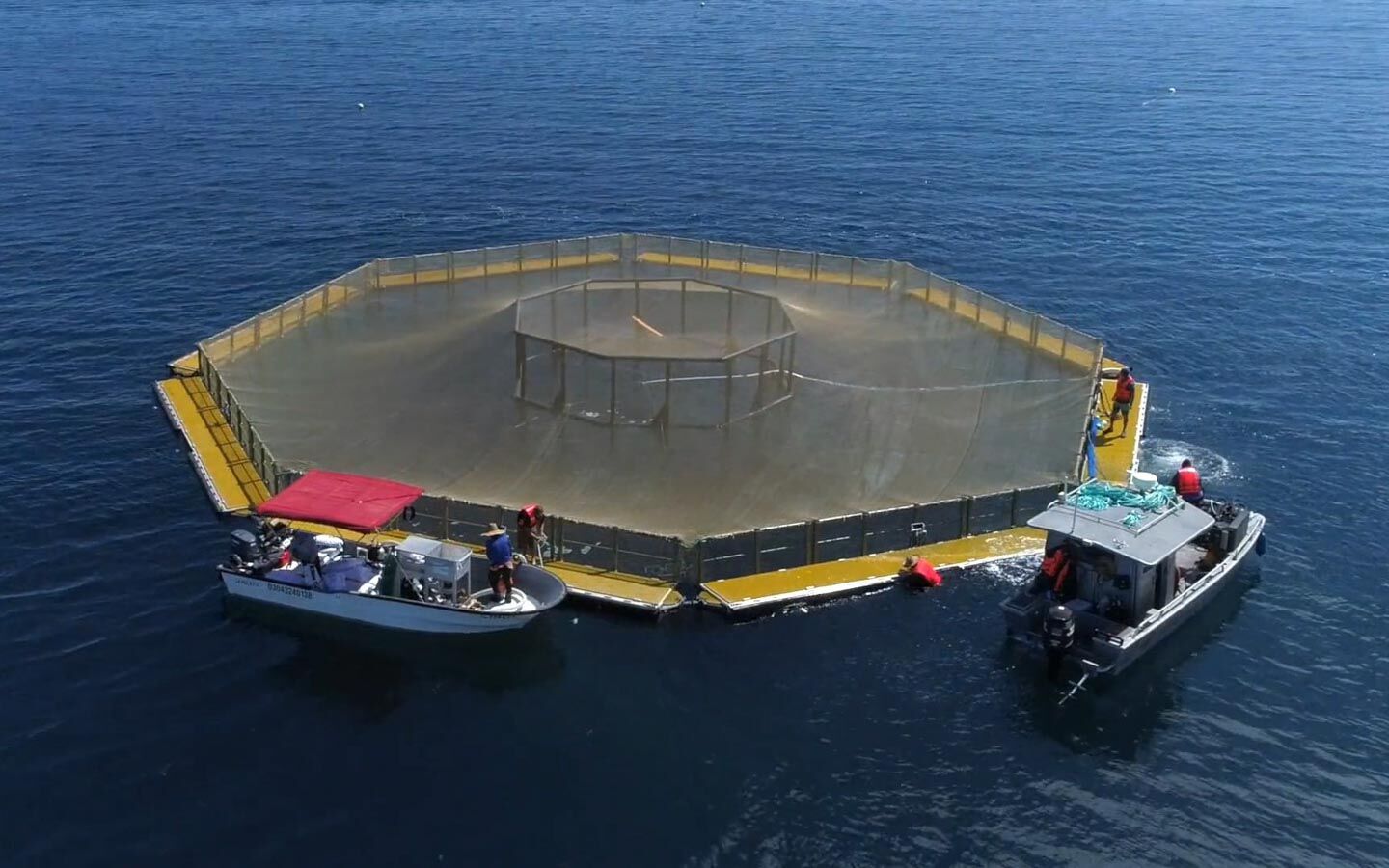 Case Study: Innovasea Enables Earth Ocean Farms to Expand Production with Rugged Evolution Pens
Mexico's Earth Ocean Farms is a dynamic producer of totoaba and pacific red snapper and is focused on growth that is sustainable for their business and the environment. To expand production they called on Innovasea to design and build a durable aquaculture solution with minimal environmental impact that can survive frequent hurricanes.
Challenge
In the Bay of La Paz, seas are calm and winds are gentle eight months a year. But El Norte weather systems bring strong winds and currents from November to February. For traditional aquaculture pens, that can mean costly repairs, escaped fish or even a total loss of stock. So Earth Ocean Farms was seeking a solution that was durable and flexible enough to adapt to varying conditions.
Another challenge in the area is the risk of predation, mainly from sea lions. "Sea lions are a very intelligent and stubborn mammal, and once they learn how to get in a fish pen they teach the rest of the group," says Pablo Konietzko, Director of Earth Ocean Farms. As a result, the company needed more resilient netting.
Finally the farm needed to consider its impacts to the region. Aquaculture effluent can build up underneath pens that are close to shore, contributing to environmental issues such as algal blooms.
Solution
To limit its impact on La Paz Bay in the Sea of Cortez, Earth Ocean Farms turned to Innovasea, whose innovative open ocean aquaculture solutions enabled it to move further offshore. This had two main benefits:
Strong currents offshore naturally disperse any effluent into the open ocean where it is safely returned to the food web.
The farm site is far enough out that it minimizes visual impacts from shore, allowing it to coexist peacefully with the tourism trade.
In addition, the location is ideal for the fish being farmed, with stronger currents preventing parasite attachment and providing more stable oxygen levels to keep the fish healthy.
Check out the World Economic Forum's interview with Pablo Konietzko, Director of Earth Ocean Farms. He describes his farm operations and how offshore aquaculture can supply the global demand for fish in a sustainable manner.
The Evolution Pen
In order to utilize the offshore site, Innovasea designed a new offshore aquaculture system: The Evolution Pen. The Evolution Pen combines the durability of a submersible pen with a traditional surface pen.
Duck-and-Cover Capability
The Evolution Pen is designed to be operated at the surface but can be submerged to a safer depth when bad weather strikes. Operations continue as normal when the pen is submerged, reducing stress on the fish. When the pen is at sea level it is run like a traditional surface pen, making it easy for experienced operators to manage. There are convenient walkways around the perimeter of the pen, featuring handrails and non-slip fiberglass decking. Multiple pens are connected to a submerged grid mooring system, which streamlines feeding and provides a conduit for power and data cables, making it easier for boats to access the pens.
Copper Alloy Mesh Netting
To keep hungry and inquisitive sea lions out, Earth Ocean Farms chose copper allow mesh netting, the toughest netting on the market. This rugged netting is difficult for predators to penetrate and remains naturally clean. That minimizes organic build-up and increases water flow, ensuring fish are safe and healthy throughout their lifespan. When the copper alloy mesh is finally in need of replacement, it can be recycled, making it the most sustainable netting option in the marketplace.
Results
Rugged, submersible Evolution Pens enabled Earth Ocean Farms to move further offshore, providing numerous health and ecological benefits for their fish.
Durable, predator-resistant copper alloy mesh netting protects fish from predators and parasites.
Moving to deeper waters has minimized environmental and aesthetic impacts.
Earth Ocean Farms was able to expand its footprint, capacity and business.
"Being able to submerge the pens during a hurricane lets me sleep at night. The decision to go with submersible pens was a must and certainly reduced the risks to our valuable stock."

– Pablo Konietzko, Director of Earth Ocean Farms
Ready to take the plunge?
Contact Innovasea today to find out how our aquaculture and fish tracking experts can help with your next project.
Contact Us