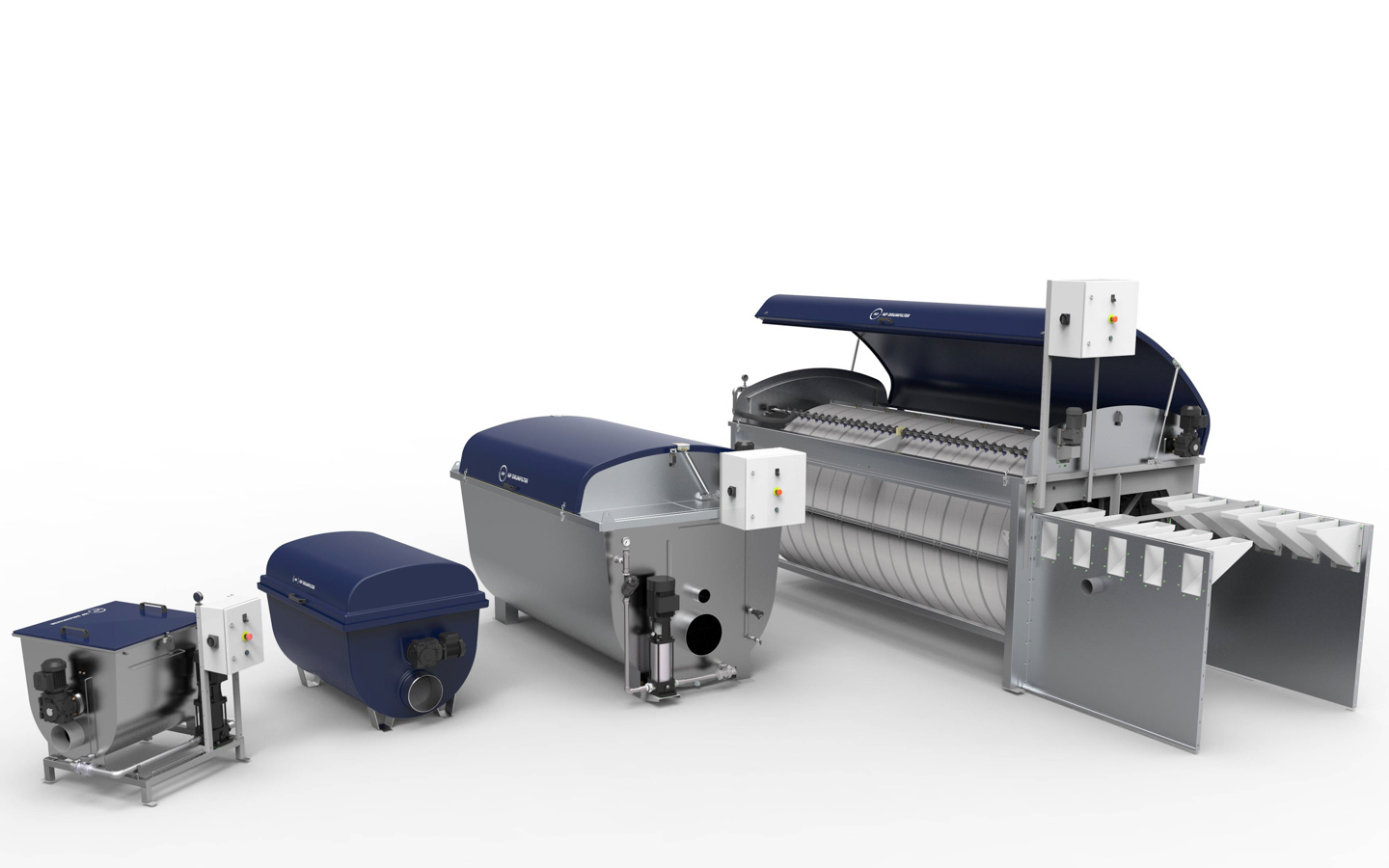 Drum Filters
A variety of components to remove solid waste efficiently
Properly removing solids is the key to a successful recirculating aquaculture system. Our drum filters and disc filters feature innovative engineering to ensure efficient particulate removal while reducing water usage.
Drum filters for aquaculture
Drum filters for aquaculture farms are mechanical, self-cleaning microscreen filters designed for high performance in water-treatment systems. They carefully handle solids removal to minimize particle break-up, thus achieving high filtration efficiency.
We have three models to choose from, each in a range of sizes:
Freestanding stainless steel tank
Stainless steel frame
Glass-reinforced plastic (GRP) tank
These are available with either a panel filter element with polypropylene grid or a panel with a fiber-reinforced plastic frame, which has 15% larger filter area and can filter solids of 20 microns or less.
Disc filters for aquaculture
Disc filters have similar filtration as drums and are ideal when a compact filter with fine filtration and a large filter area is needed. Thanks to the modular structure, a small number of discs can be installed initially. If flow increases later on, extra discs can easily be added.
Our microscreen drum and disc filters are built to last. They're engineered to give you the highest capacity at the lowest investment and have a high degree of modular design for flexibility and customization.
Key benefits
Industry best 65% submergence rate means more water filtration in a given area
Filters made from fiberglass-reinforced plastic or stainless steel (304, 316 or duplex)
Moving spray bar reduces backwash by 20%
Roller-free chain drive that reduces torque and is corrosion free
Control panels are made in the United States and UL-certified.
Ready to take the plunge?
Contact Innovasea today to find out how our aquaculture and fish tracking experts can help with your next project.
Contact Us