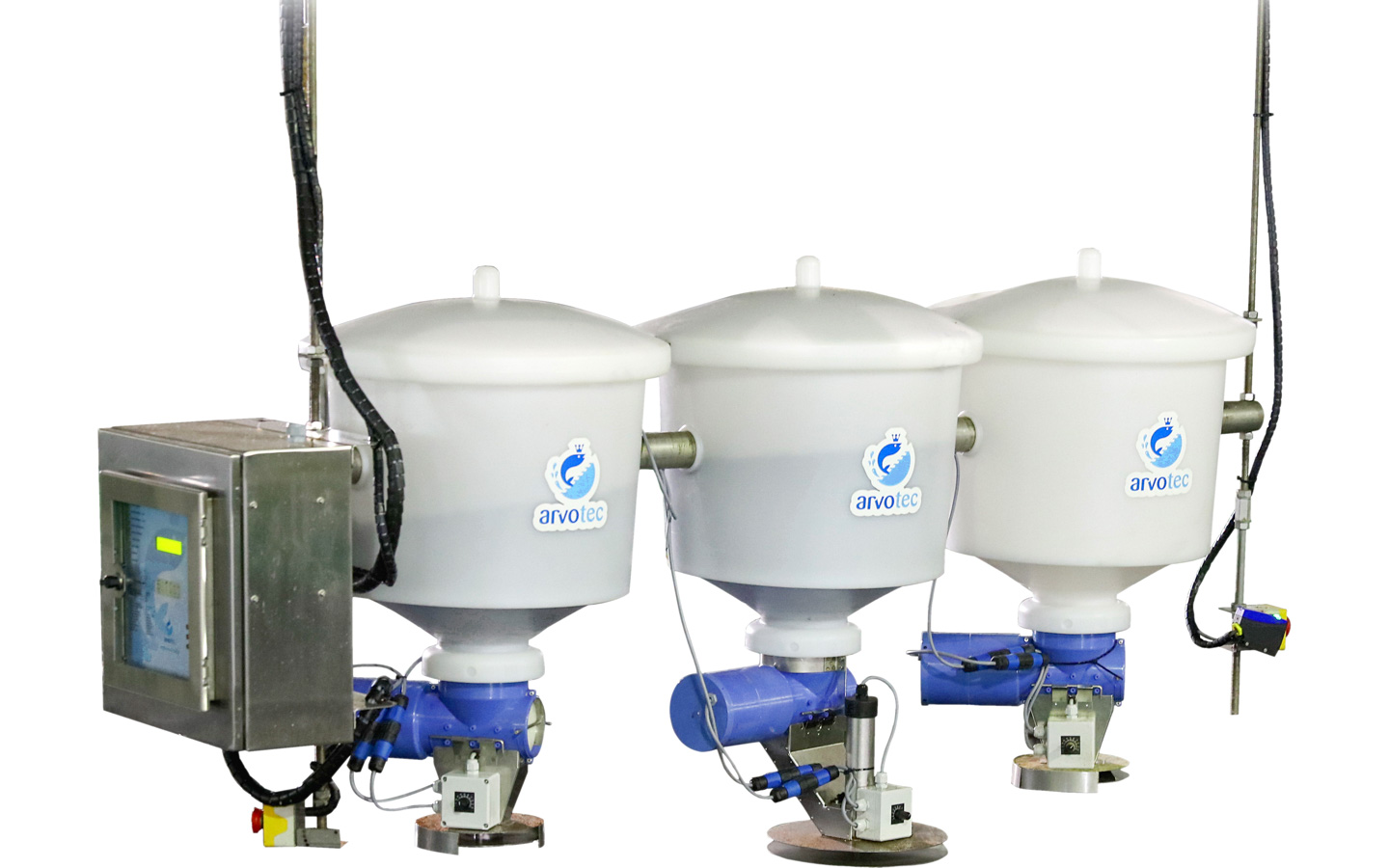 Feeding Systems
Automatic systems for accurate, consistent feeding

Regular and controlled feeding is an important aspect of any fish farm. Accurate feeding ensures high production, effective solids management and balanced water chemistry. Innovasea offers different types of fish hatchery feeding systems and automatic feeders to ensure your fish grow and stay healthy.
FIAP Belt Feeders
FIAP belt feeders are well suited for hatcheries for feeding spawn and fry and is mobile, water resistant and budget friendly. The newly designed Pro Belt feeder has a saltwater-resistant aluminum drive shaft that allows the belt assembly  to be completely removed for cleaning. The clock apparatus has been simplified and the mechanism no longer requires a mainspring. The feeders are available in 3 kg or 5 kg sizes and 12-hour or 24-hour feeding periods. We also carry spare parts for repairs on any belt feeder types.
Arvo-Tec Autofeeders
Arvo-Tec automatic feeders come in a range of sizes suitable for everything from hatcheries to grow-outs. It allows for accurate feeding at different time intervals and can calculate feeding rations and fish growth using an advanced control unit. A feeding robot is also available for facilities with multiple tanks and can deliver proper feeding to 240 tanks.
In the U.S. and Mexico, we sell Arvo-Tec feeders as part of an integrated, turn-key RAS solution. For Canada and the rest of the globe, we can sell Arvo-Tec feeders individually or as part of a larger solution.
Key benefits
Automates a time-consuming but vital task
Reduces oxygen consumption by maintaining regular feeding intervals
Reduces labor costs
Ensures reliable fish growth
Ready to take the plunge?
Contact Innovasea today to find out how our aquaculture and fish tracking experts can help with your next project.
Contact Us