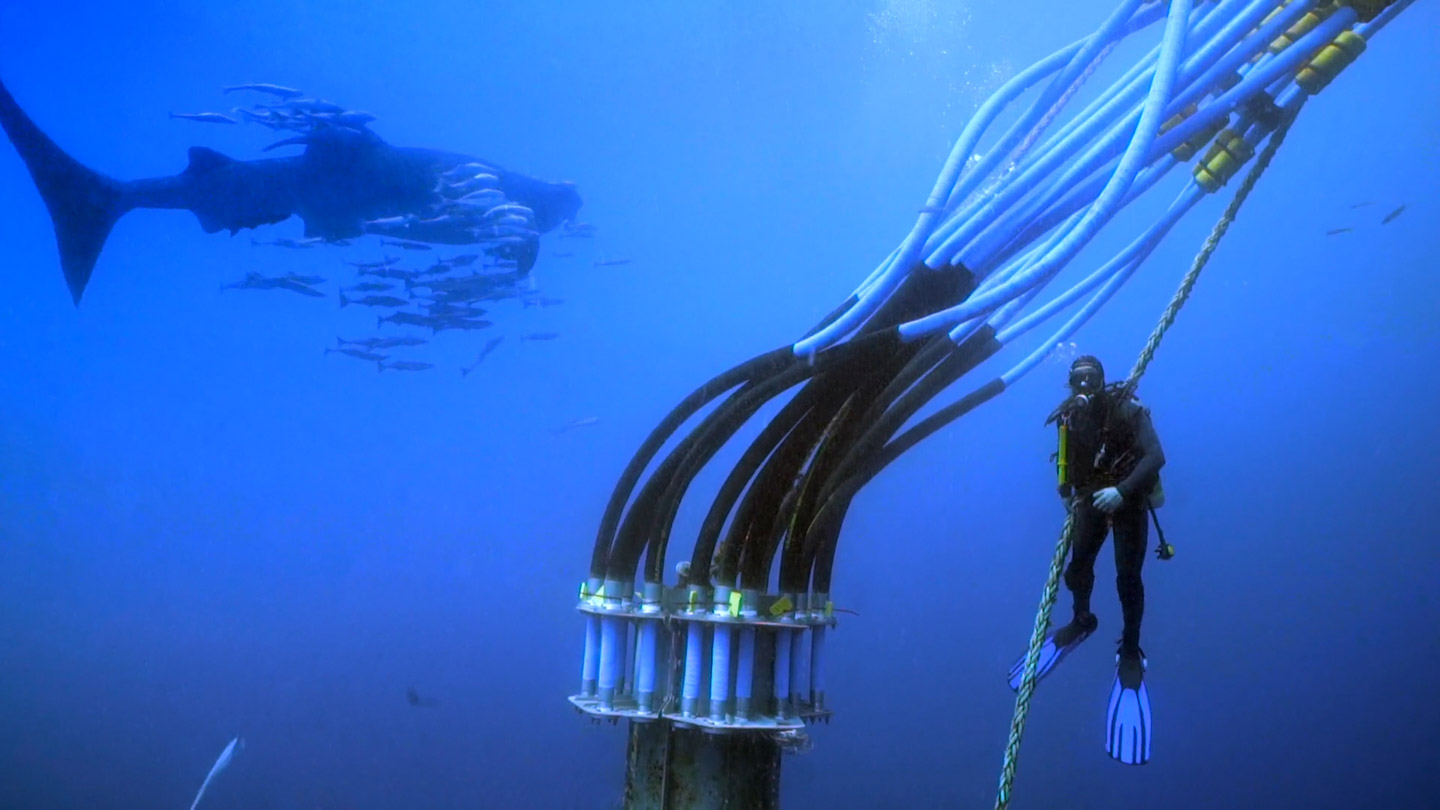 Case Study: Innovasea Helps Open Blue Become the Largest Open Ocean Fish Farm in the World
Open Blue is a leader in producing deep water open ocean raised fish with minimal environmental impact. When the company decided to take on the challenge of open ocean aquaculture to produce healthier fish, Innovasea provided a full turn-key solution – including large submersible pens, feeding systems, mooring systems and predator-proof netting.
Challenge
When Open Blue selected the waters off Panama as the site of its open ocean cobia farm, one of the largest challenges was the site's high-energy environment. Located more than 11 km offshore, the site is home to strong currents and continuous waves over 1.5 meters. These harsh conditions meant that traditional aquaculture equipment would not survive.
Not only did Open Blue need robust fish pens and equipment, it also needed to maximize efficiency, particularly its feed conversion ratio. Feed is a major operating expense in aquaculture, costing millions of dollars each year. It's often the difference between a profitable farm and just breaking even, so a good feed system needs to minimize waste while maximizing fish growth.
Finally, it was important to Open Blue that it minimize its impacts to the surrounding ecosystem.
Solution
For over eight years Innovasea has worked hand-in-hand with Open Blue to design, build and optimize its cobia farm and tackle the challenges of farming on the open ocean. Comprehensive solutions have included:
Submersible SeaStation Pens
To stand up to harsh conditions while raising cobia in the best natural environment, Open Blue chose Innovasea's SeaStation fish pens – tough, submersible pens that lie below the surface to avoid high energy waves and wind. The lower wave amplitude at this depth reduces wear and tear, prolonging the life of the pen, netting and associated systems and keeping fish stocks safe. The stability of the SeaStation reduces stress and offers a distinct advantage for growing healthy fish. To maximize production and avoid crowding in the pens in order to ensure optimal fish welfare, Open Blue is transitioning its 22 pens to the largest size SeaStation available (14,500m3).
Feeding Systems
To keep feeding on track despite waves and adverse weather, Innovasea designed an innovative, water-borne feeding system. A single surface point connects to the submerged grid of pens and distributes feed to all the pens with minimal loss. Open Blue started with the ability to feed four pens from a single point and now can feed 12.
Feeding is conducted with the pen submerged and operators are able to monitor fish behavior with high-resolution cameras and make any adjustments. Integrated analytics also provide daily estimates of how much food will be required, taking into account related environmental data such as water temperatures and currents. This saves money and allows for more precise budgeting. Eliminating feed waste also helps to prevent harm to the local ecology.
Copper Alloy Mesh Netting
To prevent predator attacks and reduce stress on fish stocks, Innovasea created the toughest netting available. Made from copper alloy mesh, the netting is difficult for predators to cut or stretch and stays naturally clean. This ability to resist biofouling increases water flow and keeps the fish healthy. It also reduces cleaning and maintenance costs. And the mesh can be recycled when it reaches the end of its life, making it sustainable and cost effective.
Results
Open Blue now has the largest open ocean fish farm in the world with 22 pens and 1,200 tons of fish harvested annually.
The cleaner, healthier offshore environment leads to better growth rates and harvests.
Copper alloy mesh netting has prevented any predator breeches.
Long lasting equipment (10-20 years for pens, 3-5 years for nets) in a relatively calm depth of water reduces maintenance and helped improve the return on investment.
Despite its size, the farm has no measurable impact on the environment.
"When I see storm clouds looming on the horizon, I don't have to worry. Working with Innovasea gives me peace of mind knowing that our fish and people are going to be safe."

– Juan Carlos, Open Blue's Director of Farming Operations
Ready to take the plunge?
Contact Innovasea today to find out how our aquaculture and fish tracking experts can help with your next project.
Contact Us