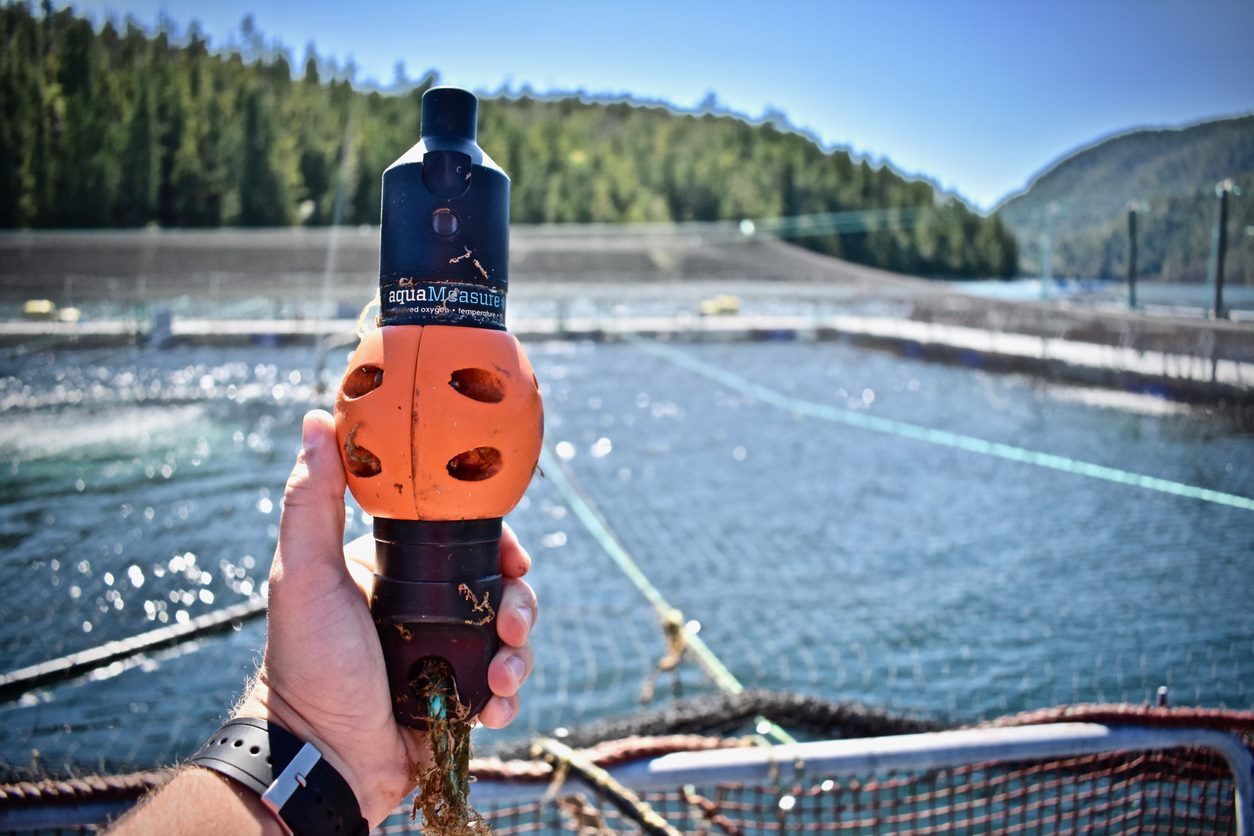 February 10, 2021
Insights:
The 7 Advantages of Wireless Environmental Sensors for Aquaculture Monitoring
By Jennie Korus
It's no secret that a better understanding of the underwater environment helps fish farmers take better care of their fish stocks. Being able to make data-driven decisions enables farm operators to both safeguard fish and maximize production. You would be hard pressed to find an aquaculture operation today that does not collect extensive environmental monitoring data. Not only is it important to satisfy local regulations but it's imperative to managing a successful farm.
Different technologies on the market provide farmers with various options, but overly complicated aquaculture sensors can become a burden if not implemented correctly. Generally, farmers prefer practical, easy-to-use solutions so they can focus on what matters most – the fish.
At Innovasea we developed our acoustic, wireless sensor technology with that in mind. Our simple, intuitive aquaMeasure sensors keep farmers informed in real time of the most critical farm conditions – including oxygen levels, temperature, chlorophyll levels and current speed.  
What makes wireless technology stand out compared to other aquaculture monitoring systems? We've compiled the seven biggest advantages of cutting the cord.
Easy to Deploy – Going wireless makes it easy to deploy your sensor anywhere. Whether it's hanging from a rope in the center of your pen or affixed to the nearby infrastructure, it only takes a few minutes to set-up an aquaMeasure sensor and start collecting data. Plus these low power sensors run on easy-to-replace D-cell batteries that can last up to full year.
Scalable – Innovasea's environmental sensors can be used whether you need to outfit a single pen or measure at multiple depths in every pen on the farm. The wireless system allows you to deploy up to 100 sensors within a 500 meter radius. This makes aquaculture monitoring extremely cost-effective for large scale monitoring.
Flexible Depth and Positioning Options – When you are not restricted by a cable, there is much more flexibility in where you can measure water conditions on your farm. Sensors can be deployed not only within the pens but in the area surrounding the farm as well. Interested in sampling over multiple depths? Multiple sensors can be deployed at regular intervals throughout the entire water column.
Simple Repositioning – When sensors are cabled, moving them when operational needs change can be a big hassle. Case in point: New government regulations in Chile require oxygen measurements from the pen with the highest biomass, which can change over time due to variable growth rates and pen-specific environmental conditions. With wireless sensors, operational staff can move sensors around the farm in just a matter of minutes.
No Cable Management Required – Electronic cables are delicate and can interrupt data collection if not properly cared for. Abrasions can occur on moving platforms and cables can be pinched by vessels as they pull up to the farm. Going wireless means no longer having to replace expensive cables.
Logging Capability – The internal logging capability of our aquaMeasure sensors means you can collect data in remote areas without the need for power, a Wi-Fi connection or a cellular network. Logging data provides a backup option to ensure you never experience a gap in monitoring data. In addition, internal logging capability means you will continue to collect data even when a site loses power or reception.
Sensor Network of Multiple Parameters – Whether it is fine-scale oxygen monitoring or full monitoring of chlorophyll, turbidity or salinity, wireless sensors provide you with the flexibility to measure a number of parameters. Each sensor offers multiple configuration options so you can measure data at the frequency you desire so you always have the data you need.
Innovasea's flexible monitoring solution offers an unlimited number of sensor configurations depending on the needs of the farm. Whether it is fine-scale monitoring of many different parameters for a research study or just basic monitoring of oxygen in each pen to ensure the best conditions for the fish, aquaMeasure wireless sensors can meet the needs of any farm.
Want to learn how wireless sensors can work for you? Contact our experts today to discuss your needs and outfit your farm with this unique, leading-class technology.
About the Author
Jennie Korus is an aquaculture scientist at Innovasea and part of the Aquaculture Intelligence team in Halifax, Nova Scotia. Jennie holds an honors degree in Marine Biology and Statistics from Dalhousie University and an advanced diploma in Ocean Technology from NSCC. She is currently working towards her master's in Oceanography at Dalhousie with a focus on fish stress and environmental monitoring on aquaculture farms.