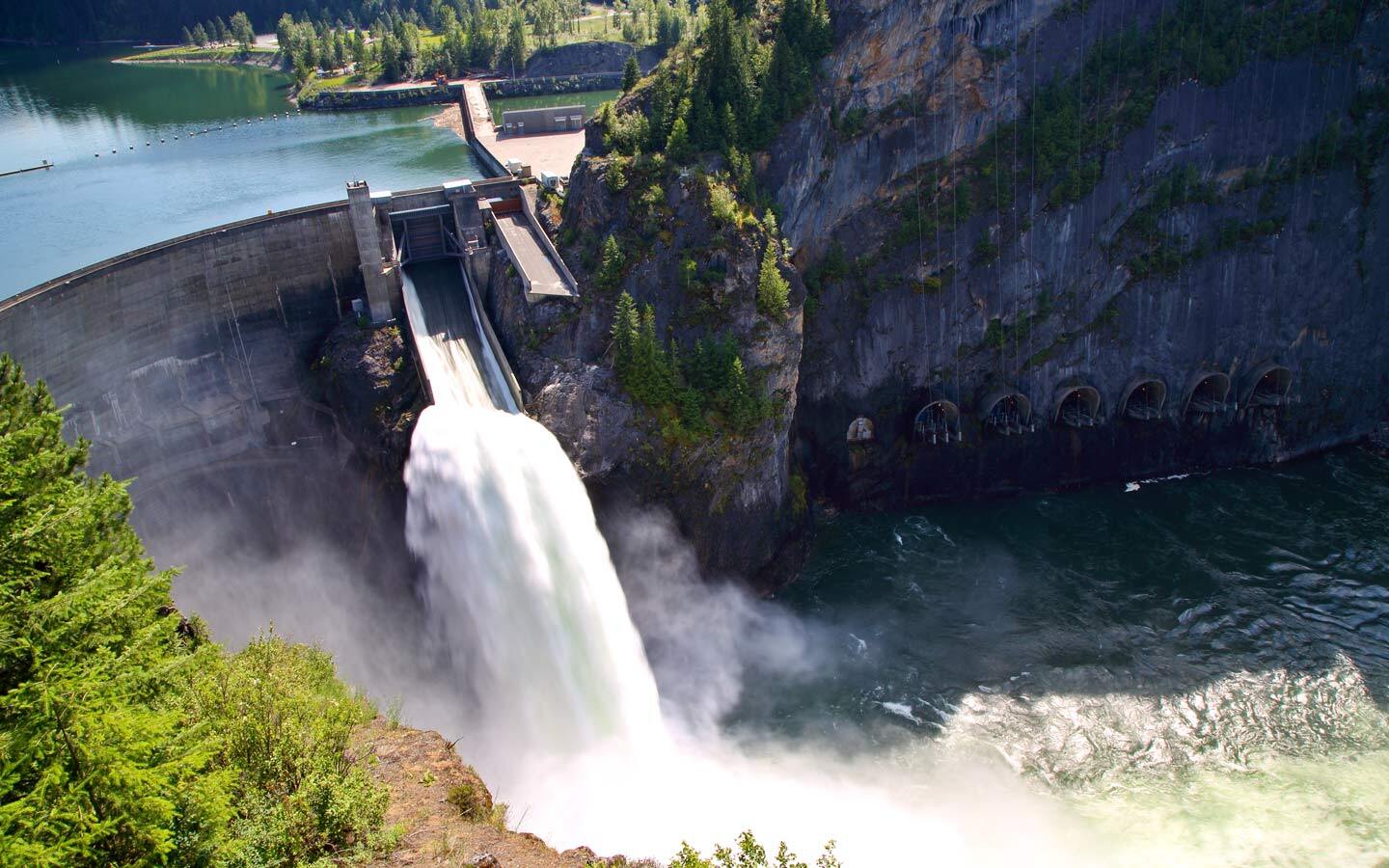 March 24, 2021
Insights:
How Hydropower Facilities Deal with Fish Migration Impacts During Relicensing
By Michael Sears
Hundreds of hydropower facilities in the U.S. are coming up for federal relicensing over the next several years. Many of these facilities are situated in the lower reaches of the country's largest river systems, and often have large and complex structures that can block or delay upstream and downstream travel for migratory fish.
Relicensing with the Federal Energy Regulatory Commission happens about every 40 years. The process often lasts longer than five years and can approach 10 years for large or complex facilities.
Various stakeholders – including state and federal agencies, tribal communities, local governments, environmental groups and private citizens – all have a chance to participate in this process. They can request that studies be conducted to evaluate how the dams and other facilities impact areas like recreation, aesthetics and the surrounding environment.
How Dams Affect Fish Migration
One of the most contentious issues when relicensing hydropower facilities is how they impact fish passage – the ability of migratory fish to get past the infrastructure.
Many fish need to reach habitat located in higher regions of a watershed to successfully spawn and provide their offspring access to suitable rearing habitat. This includes species such as all of the Pacific salmon species.
While many hydropower facilities have installed fish ladders to help these salmon get around the dams and upstream to this habitat, others have not. In addition, many facilities have outdated fishways in place that do not work well.
For the fortunate salmon that do make it upstream to spawn, they produce offspring that usually spend two years in this habitat before migrating downstream to the ocean. As these fish approach hydropower facilities, multiple obstacles decrease their chance of survival.
First, salmon smolts (juvenile downstream migrants) enter large reservoirs created by hydropower dams where their downstream migration rate is slowed and they can become susceptible to predation. Then, as they approach the dam, they need to find a safe passage route downstream.
As with the fish ladders used for upstream passage, some hydropower facilities have fish guidance structures or other mechanisms to help the salmon smolts find a safe bypass to get downstream. Facilities that do not have downstream guidance structures and bypass routes create a situation where salmon smolts are more likely to get forced through the hydropower turbines to get downstream. This is known as entrainment.
Stakeholders often request studies to evaluate the impact a hydropower facility has on migrating fish species. A widely preferred method for evaluating fish behavior around dams and other infrastructure is the use of acoustic telemetry technology to tag and track fish. Studies using this technology can determine when and where fish are congregating as they attempt to swim upstream or downstream around a dam. This allows stakeholders to identify the best place to put a new fishway or determine how well an existing fishway is working.
Hydroacoustic sonar surveys are also common when evaluating downstream passage and potential entrainment through a powerhouse.
Technology in Action
Innovasea used both of these technologies to help Seattle City Light with the relicensing and compliance efforts of its Boundary Dam on the Pend Oreille River, a major tributary of the Columbia River.
As part of the relicensing process in 2013, Seattle City Light studied the occurrence of fish entrainment through the 340-foot high dam. The results of the hydroacoustic studies confirmed that fish entrainment was occurring at the dam, informing subsequent mitigation considerations.
As part of the new license, Seattle City Light partnered with Innovasea to implement elements of City Light's fish and aquatics management plan that focused on the study of entrainment. Innovasea conducted acoustic telemetry studies to track fish and identify patterns of residence and movement in and around the dam and reservoir.
These studies, which are ongoing, examine species-specific migration patterns, habitat use, size of home range, spawning locations, passage routes, predation impacts, and downstream entrainment through the dam. This information will be used to guide future decision making related to the reduction of entrainment at Boundary Dam.
Conclusion
Every hydropower facility has its own unique complexities, but one thing is certain: if migratory fish exist nearby, then fish passage studies will be required during the permitting or relicensing process. Active (hydroacoustic sonar) and passive (acoustic tag monitoring/fish tracking) telemetry methods provide effective methods of studying upstream and downstream fish passage for hydropower facilities going through the relicensing or license compliance process.
Have questions about hydropower relicensing or fish passage studies? Innovasea can help. Learn more about our Fish Tracking Consulting Services or contact us today for additional information.
About the Author
Michael Sears is the business development manager for Innovasea fish passage services and has 15 years of experience in fisheries science and consulting. He has conducted and managed numerous fish passage and protection studies throughout the United States. Prior to joining Innovasea, he worked for HDR managing hydropower relicensing and compliance studies. He holds a master's degree in environmental science and policy from the University of South Florida and a bachelor's degree in fisheries and wildlife biology from the University of Vermont.